Backyard Agility Dogs is pleased to announce dates for MAL 2018.  Mark your calendars!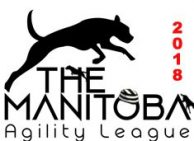 MAL #1:  Sunday June 24, 2018
MAL #2:  Sunday July 29, 2018
MAL #3:  Sunday September 2, 2018
More details regarding registration will be available in Spring 2018. We're looking forward to our 9th season of the League with more fun and games!