The Manitoba Agility League is a team based, fun-match style agility group that helps dogs and handlers learn more about what it's like to compete in agility trials without the stress.  If you or your dog has never trialled before – or you need more training or confidence in competition – then this is where you want to spend your summer!

You'll be able to train and reward your dog in a trial-like situation with the support of your team and other agility friends!  Run Standard courses, Jumpers, Snooker, Gamblers & even a Steeplechase course!  Plus, you can participate in mini-seminars and a great end-of-season celebration.  This is a wonderful opportunity to learn more about what's involved in going to trial with your dog.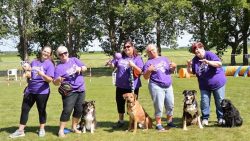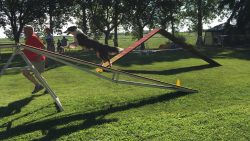 Each summer, Backyard Agility Dogs hosts three separate half day agility events for pre-registered teams.  You'll learn what to bring to a trial, what volunteering involves (and have fun doing it!), how to read and walk courses, what the rules really mean, and have the opportunity to train & teach your dog while running a full course under an Agility Judge.   Learn the ins and outs of trialling in the company of friends.  When you're ready to tackle your first REAL trial – you'll be confident and prepared!