CLASS REGISTRATION INFORMATION
Early socialization and proper training is paramount in creating an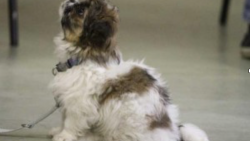 enjoyable lifelong bond with your puppy or dog. BADogs training keeps classes small to ensure both you and your dog are receiving the attention you need to build that relationship. BADogs uses only positive (reward based) methods of training so you will enjoy and succeed with your dog.
Upcoming class dates will be posted on the BADogs news page of our website. Please fill out the Class Registration form, include proof of vaccination and a signed waiver along with the correct class fee before the closing date.
We accept cash, personal cheques or e-transfer payments. Cheques may be made out to Backyard Agility Dogs. There will be a $20.00 service charge on all NSF cheques.
OUR VACCINATION POLICY:
PUPPIES: (up to 6 months of age) ALL puppies MUST have proof of their first vaccination before they can start classes. Many Veterinarians recommend starting puppy classes no earlier than 7 days after your puppy's first set of shots.
ADULT DOGS: ALL dogs MUST have
– Proof of current vaccination, OR
– Proof of titre test if they have not been vaccinated in the last 2 years, OR
– Certificate of Health from a local Veterinarian and a signed declaration from owners that they understand the risks associated with not vaccinating their dog and the reason for not vaccinating said dog.
OUR CANCELLATION and MISSED CLASS POLICY:
Due to the small number of students in each class we do not offer refunds for classes you are unable to attend.
If BADogs has to cancel a class for whatever reason, we will make every effort to reschedule. No refunds will be given for missed re-scheduled classes.