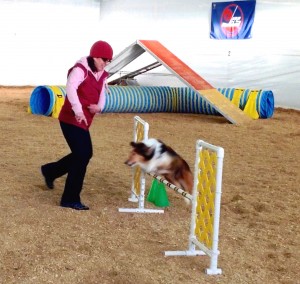 Laurie became involved in obedience and agility training in 1990 with her first sheltie, Cody. Her interest was sparked and she started teaching and promoting dog training and canine sports activities. Laurie became an Agility Association of Canada (AAC) judge in 1998 and a Canadian Kennel Club (CKC) judge in 2001. It has been her privilege to watch dogs compete from coast to coast in Local, Regional and National Competitions. Laurie is also a certified CKC Canine Good Neighbour (CGN) Evaluator and offers classes and testing for this program. She competitively trains and shows her own dogs, achieving numerous titles including CD, CDX, Canine Good Neighbour and Canine Good Citizen, ATChC, Versatility Bronze and Expert Silver Awards.
Laurie is a Certified Professional Dog Trainer (CPDT-KA) and Professional Member of the Canadian Association of Professional Pet Dog Trainers (CAPPDT). She continues to update her education in the field of dog training by participating in workshops and seminars. All of Laurie's training methods are based on positive, motivational training. Over the past two decades, Laurie has instructed Obedience, Rally Obedience, Socialization and Agility classes at all levels.
Laurie is an Examining Judge for the AAC, a member of the AAC Appeals Committee and has worked with her husband and fellow judge, Pierre Lalonde in inspecting equipment and venues as an AAC site approver. In 2011, Pierre and Laurie developed the Manitoba Agility League, which promotes AAC agility to new handlers and their dogs. They host these annual events, along with fun matches and sanctioned trials.
Laurie is Vice President of Agility in Manitoba (AIM). She was on the Board of Directors for the Ottawa Humane Society and was Chairperson for the Membership Committee. Laurie has a degree in Communications and worked in radio broadcasting for ten years.
Laurie proudly works as the D.O.G. Ambassador for Sunova Credit Union. In addition, she operates her own home based dog grooming business, which she started in 1994. She worked as a Humane Educator for the Winnipeg Humane Society and continues to be employed as a Behaviour Counsellor at the WHS.
Laurie & Pierre love spending times with their 3 shelties and 2 St. Bernards and enjoy sharing the joy of responsible pet ownership with others.