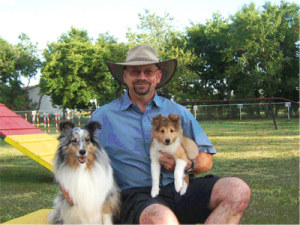 Pierre became involved in obedience and agility training in 1981 with his first dog, a German Shepherd named Ben. After years of helping at a local dog club, Pierre became an assistant instructor, eventually taking on full training. He promotes positive reinforcement training methods.
In 1996, Pierre became an agility judge for the Agility Association of Canada (AAC) and with the Canadian Kennel Club (CKC) in 2001. He also became a CKC obedience judge in 1992 and a Rally-Obedience judge in 2008. Pierre has judged dogs across the country in Local, Regional, National and Specialty Competitions. Over the past three decades, he has assisted in running trials, instructed Obedience, Rally O and Agility at all levels. He competitively trains and shows his dogs, achieving numerous titles including CD, CDX, OTCH, Canine Good Citizen, Masters Snooker Dog of Canada and Master Jumpers Dog of Canada.
Pierre is currently an AAC Course Approver, Examining Judge and a member of the AAC Equipment Committee. Pierre has worked with his wife and fellow judge, Laurie Keith, in inspecting equipment and venues for the AAC and CKC. Over the past 7 years, they have developed the Manitoba Agility League which promotes AAC agility to new handlers and their dogs.
Laurie & Pierre love playing, training and working with their 3 shelties and 2 St. Bernards; and want to pass along the privilege of responsible pet ownership to others